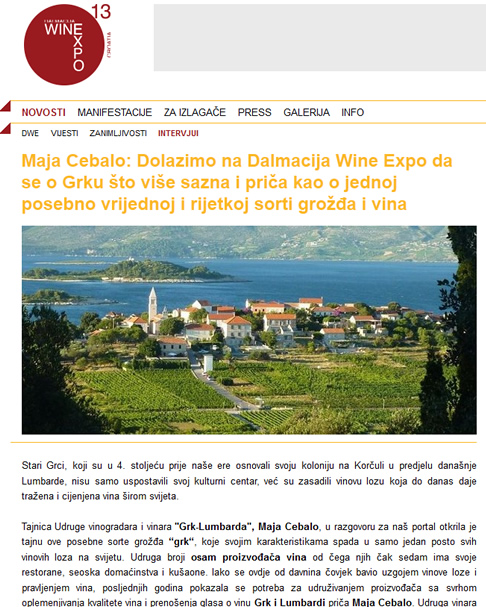 U susret nadolazećem,  četvrtom po redu Dalmacija Wine Expo, organizatori festivala održali su kratak, ali vrlo sadržajan i edukativan razgovor sa tajnicom Udruge vinogradara i vinara Grk-Lumbarda, gospođom Majom Cebalo.
Iako je puno toga zanimljivoga već ranije napisano o Grku, ovaj intervju svakako donosi još dobar niz zanimljivosti o ovoj, po mnogim stvarima posebnoj autohtonoj hrvatskoj sorti.
Unatoč već poznatim posebnostima o starosti ove loze i njenom uzgoju u pješćanom tlu, mnogi tako još vjerojatno ne znaju da se sorta Grk ubraja u svega jedan posto sorti u svijetu koja ima samo funkcionalno muški ili ženski cvijet te još nigdje drugdje pa tako ni u u Italiji niti u Grčkoj npr. nije pronađena sorta iste DNK strukture unatoč nekim sličnim nazivima koji se tamo eventualno pojavljuju.
Također sam intervju  donosi i niz zanimljivosti o obrađenim površinama i stanju u prostoru gdje se sadi ova vinova loza, o kvaliteti berbe iz 2012., o količinama koje se proizvode i komercijalno prodaju, te konačno informaciju gdje se ovo rijetko vino može nabaviti.
Kratak izvod odnosno završni dio intervjua donosimo ovdje, a kompletan tekst svakako pročitajte na stranicama
Dalmacija Wine Expo 2013 :
Grka zasad ima nešto u Zagrebu, ali jako malo. Nama to nije primarni cilj, jer od osam proizvođača te sorte čak sedam ih ima svoje restorane, seoska domaćinstva i kušaone. Oni plasiraju svoj grk kroz svoje ugostiteljske objekte u samoj Lumbardi pa im ne ostaje za prodaju izvan otoka. Mogu reći da se čak 70 posto grka popije u samoj Lumbardi, jedino moja familija, suprug Branimir i ja, prodajemo naš grk izvan otoka, ali također smo vezani za ovaj kraj od Splita do Dubrovnika. Te količine su ipak vrlo male i gledamo biti prisutni na tržištu svih dvanaest mjeseci. Nama je pak, kao udruzi, zanimljivo da se za grk zna; dakle, kad smo na sajmovima nama nisu zanimljivi trgovački kontakti već to da se o Grku što više sazna i priča kao o jednoj posebno vrijednoj i rijetkoj sorti grožđa i vina koja se proizvodi prvenstveno u Lumbardi. Želja nam je ljude privući u Lumbardu da dođu i kušaju vino na mjestu gdje se proizvodi.
Na kraju podsjećamo da će se četvrti po redu Dalmacija Wine Expo održati u Makarskoj na dane 3. i 4. svibnja 2013. Sa radošću vas očekujemo za stolom lumbarajskog Grka i naravno partnera mu Plavca.