Tribidrag, Crljenak Kastelanski, Zinfandel and Primitivo. Does any of these names sound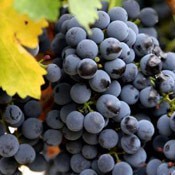 familiar to you?! Four different names, from several different world regions but they all represent the same grape variety.  Zinfandel is probably the most frequent and the best known among the names mentioned above.  It is actually one of the oldest and the most famous Californian varieties and it's origins were uncertain or misplaced for decades. Finally a very thorough research with a complete DNA analysis proved the Croatian origin of famous  dark red wine popularly called "Zin". Crljenak Kaštelanski is the same grape variety as Zinfandel in US, as Primitivo in Italy, and Tribidrag in some parts of coastal Croatia, and Crljenak was the one who left Croatia and embraced new regions under new, now well known names.  Finaly Crljenak Kastelanski is also together with another Croatian indigenous variety called "Dobričić", a predecessor of  Plavac Mali. Plavac Mali translated in a free language as a " little blue one" gives currently around 9% of all Croatian red wines and shows excellent adaptability to reigning conditions of coastal Croatia. Most of all it's warmer parts: middle and southern Dalmatia. At the same time, the above mentioned parents of Plavac mali (Crljenak & Dobricic), can barely be found in Croatia today and they mainly ceded the best land to their now very ambitious successor.
Plavac mali usually produces full-bodied, high alcohol (most frequently over 13,5%), dark red wines, with excellent balance after proper aging. It's bouquet is known as rich offering different aromas such as prunes, blackberries, cherries whose flavors are persistent and usually provide long finish.
Best wines of Plavac Mali usually come from sloped vineyards south and south-west oriented, with the proximity of the sea for good temperature stability and excellent air drainage.  In best vineyard locations the crop yield does not exceed  1 kg per vine.
Producers in Lumbarda: